Article Archive
Vintage Article:
Barbie's Formal Ballgowns - the First Six Years!
What would Barbie doll choose to wear to the upcoming dance? She had quite a few gorgeous formal gowns to choose from back in those early years. It could take her hours to decide!
The first formal dress she owned was 1959's beautiful, European-styled and quite rare "Gay Parisienne." I don't think we can classify this one as a ballgown, stylish as it is, as it only comes down to Barbie doll's knees in length.

However, her first floor-length ballgown is the very feminine "Enchanted Evening" outfit from 1960. A full-length strapless pale pink satin gown is complemented by a white fur stole wrap, white opera-length gloves, an elegant 3-strand pearl choker, matching pearl drop earrings and clear open-toed heels with gold glitter. A portion of the full skirt is drawn up and attached at the waist and accented with 3 rhinestones. A later version of this outfit [pictured to the left] has a matching pink silk rose at the waist instead of the rhinestones. How could any date of Barbie's resist such an exquisite look?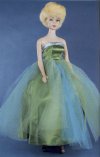 Barbie doll didn't add any new ballgowns to her wardrobe until 1963, by which time she had already had a steady boyfriend in Ken for a few years. Apparently Ken invited her to his "Senior Prom," for this fabulous ice blue and sea green formal ballgown was the next one she acquired. This gown is a collector's favorite and for very good reason! It is a full-length strapless sea green satin gown with an ice blue satin accent band across the top of the bodice. The full skirt is accentuated by intermingling turquoise and sea green vertical panels of tulle. Barbie didn't need much more to accent this eyecatching dress - only a pair of green open-toe pumps with pearl accents complete her look.
There was another unforgettable gown added to her wardrobe in 1963: the very regal "Sophisticated Lady." And quite sophisticated it is, too! This royal-looking outfit consists of a rose pink floor-length sleeveless gown with silver filigree lace trim on both the bodice and the gown, a fully lined fuchsia velvet floor-length sleeveless coat with a wide stand-up collar and 3 "gold" buttons, opera length white gloves, a pale pink graduated pearl necklace, light pink open-toe shoes and either a solid gray or clear with silver glitter plastic tiara for her hair. What more could any sophisticated lady want?
Barbie didn't get any new formal dresses in 1964, but in 1965 she went on a shopping spree and bought six new fabulous ballgowns! She must have had quite a lot of formal dances to go to that year.
Ken invited our favorite girl to his "Fraternity Dance" this year, so she had to find a special and a bit more grown-up looking ballgown to wear. She decided on an elegant dress with a white lace sleeveless bodice, a full-length pale pink taffeta skirt with a fuchsia chiffon overskirt, and a double chiffon sash of bright blue and green accented with a "gold" brooch with a blue rhinestone at the waist. She accessorized this with long white gloves, a chain necklace with a drop pearl and fuchsia open-toe pumps. I'm sure Ken must have beamed with pride that night as he escorted her onto the dance floor.
One of my personal favourite ballgowns from 1965 is the very beautiful "Midnight Blue" outfit. The gown is made up of a silver lame strapless bodice over a full-length deep blue extra-full satin skirt. A matching blue cape with armholes has a white satin lining and a white faux fur collar. Complementing this look are long white gloves, a silver dimpled clutch purse, a graduated pearl necklace and medium blue open-toe shoes. Barbie doll looked absolutely stunning in this fabulous ensemble!

Next came the very festive annual "Holiday Dance." I'm sure Barbie must have spent days shopping for the perfect dress to wear to this Christmas-themed gala. She found just the right choice in a sleeveless full-length white and gold lame horizontal-striped number. This gown has small gold spaghetti shoulder straps and is highlighted dramatically at the waist with a brilliant orange chiffon sash accented with 2 rows of gold beads to hold it in place. She wore long white gloves, carried a gold dimpled clutch purse and selected white closed-toe high heels to complete her holiday look!
Another very important night for Barbie in 1965 was her date with Ken to the Valentine's Dance. There was no need to spend hours deciding - she knew exactly which gown she would choose for this one! She wore a stunning white satin strapless gown with panels of red and pink tulle from the waist to the floor, long white gloves, pink graduated pearl necklace and red open-toe shoes. (The dress was the same pattern as her 1963 "Senior Prom" gown). This was the dance where she was voted "Campus Sweetheart" by her fellow students and honored with a bouquet of six roses and a "silver" loving cup with a raised "B" on the side. This was surely a night that Barbie would never forget!
In the spring of 1965 Barbie and Ken purchased tickets to attend the Charity Ball fund-raiser. The outfit that Barbie chose to show off at this fun event can be described with only one word: "Magnificence"! This regal-looking ensemble features a gown with a red satin sleeveless bodice and a pink taffeta and chiffon skirt that is accented by a silver glittered floral pattern. Two long panels attached at the back of the waist were of red satin lined with white satin. These coordinated perfectly with her matching red satin jacket with the same style of panels at the front, so when Barbie doll wore it over the gown it created the illusion of a regal evening coat! The jacket had a white fur collar and 2 rhinestone accent buttons at the waist. The full skirt of her dress required a pink net ruffled underskirt and the only accessory she needed to finish the outfit was a pair of pink open-toe shoes.

I think her tiny feet must have been starting to get sore after all the dancing, but there was still one more very important event to attend this year. This was the year of Barbie doll's "Junior Prom," which is definitely one of the most breathtaking gowns from this year. This bright red chiffon floor-length sleeveless gown is lined in red silk. It has an attractive scoop-neck bodice, a ruffled hem and an applique of 3 fabric flowers with green leaves accentuate the waistline. Barbie chose as accessories a white rabbit fur stole with white satin lining, white opera-length gloves, a chain necklace with a single drop pearl and red open-toe pumps. I'm sure that everyone's heads must have turned when Barbie made her entrance at the Prom that year!
You'd think that Barbie's closet would have been stuffed to the brim by the end of 1965! I think she must have given a few of her dresses to her friend Midge, because she didn't stop acquiring new ones in 1966. Any vintage collector can have a great deal of fun and excitement searching for and creating a fabulous display of dolls in many of these beautiful gowns!
---
home | dolls59-66 | dolls67-76 | dolls77-95 | clothing | footwear | accessories
bargain | other-stuff | identification | articles | links | board | contact