Article Archive
Vintage Article:
Vintage Barbie Shoes - How to Identify Her Heels & Pumps
Barbie doll has the most spectacular wardrobe of shoes! The reason is mainly because Mattel paid so much attention to the fine details of her fashion ensembles. There are many interesting shoe facts about her open-toe and closed-toe heels and spikes, and it can be fun for the vintage collector to try to find examples of them.
The open-toe and closed-toe shoe charts at the bottom of this article should help you identify which heels are more common and which ones are more difficult to locate.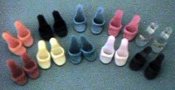 All of the open-toe pumps are made of hard plastic and are marked "Japan" in capital letters on the bottom of the arch of one of the shoes. On rare occasions, pairs have been found with both shoes marked "Japan", or no mark at all is sometimes found. However, every pair of open-toe pumps clearly has a Left and a Right shoe, making them non-interchangable and easy to identify as correct pairs.
When studying your Barbie doll's shoes, you shouldn't depend on the Mattel fashion booklets for accuracy. These booklets have quite a few mistakes - such as showing the "Plantation Belle" outfit with white open-toe shoes when it actually came with light pink ones.
The navy blue open-toe pumps that go with "Gay Parisienne," "Commuter Set" and "Busy Gal" are often rather hard to identify. It is difficult to see the navy tone in these shoes, and at first glance they tend to appear black. If you place them next to a pair of black open-toe pumps in very good light, you will be able to tell that they are actually navy blue. A very rare midnight blue pair of pumps with holes in the bottoms have sometimes been found in early versions of the "Gay Parisienne" outfit. I haven't actually seen these shoes in person, but I have been told that they look like a washed-out navy color. You would probably know them if and when you ever see them, as they apparently look like no other Barbie open-toe heel. Navy heels, with or without holes in the soles, are correct for "Gay Parisienne."
Barbie's 1959 outfit "Commuter Set" has two variations of heels. Purple shoes with holes were the very first pumps made for this outfit. These purple pumps look like they are black until you hold them up to a light when you can see that they are actually a really pretty shade of purple. "Commuter Set" is more commonly found with ordinary navy open-toe heels.
The smart 1960 business-style outfit "Busy Gal" also had pumps that are navy blue, although they also look completely black like the aforementioned rare purple heels. Again, holding them up to a light is the best way to distinguish that they are actually dark blue. The correct pumps for "Busy Gal" are always navy blue; it never came with black ones. To be absolutely sure, it is always a good idea to hold every so-called black open-toe shoe up to a light to confirm its actual color. Then you will be positive you have the right shoe for your outfit!
The glitter open-toe pumps are sometimes hard to identify when the little specks of gold or silver have worn off the shoe. Silver glitter pumps always had the glitter on both the heel and the strap. Gold glitter heels have the gold only on the strap of the shoe. If the glitter is worn off, look for traces on the shoe's heel. If you find any, the pump was definitely once silver glittered.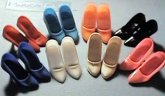 Black and white pumps are the easiest to find as they came with numerous outfits, fashion Paks and all early dolls made before 1962. I should also point out that red open-toe heels are actually the 3rd most common shoes found even though they actually accompanied only five different outfits. They also came with each Bubblecut Barbie and in many fashion Paks. Any open-toe pumps not listed on the chart, such as yellow or orange ones, came with Barbie fashion Paks and didn't come with any specific outfits. The only exception is the beautiful turquoise open-toe pumps, which didn't come with any Barbie outfits or Paks but were available only with the American Girl Barbie and bendable-leg Midge dolls that were on the market in 1965 and 1966. These are harder to find and quite desirable, as people tend to look for them to go with their bendable-leg dolls.
In my opinion, Barbie's closed-toe heels are her most attractive and fashionable shoes [photo above right]. They are also made of hard plastic, and both shoes are marked "Japan" on the bottom of the arches. There are no left or right shoes, making them much more interchangable. The very first closed-toe heel was made to go with Ken's 1964 Little Theatre outfit "The Prince". It was supposed to be Cinderella's glass slipper, and it came sitting on a small magenta velvet pillow for Ken to offer for her to try on. This clear shoe has been found with both a regular and tall spike heel.

The following year Mattel started making sexy closed-toe heels with some of the Barbie outfits available in 1965. Some outfits produced near the beginning of this year even came with the ultra-rare high spike heels, but by the middle of the year they all came with the regular closed-toe pumps. Those high spike shoes [pictured to the left] are the very hardest to find of all Barbie's footwear, as they were only available for such a very short period of time at the early part of 1965.
One question that is often asked is about Barbie's pink heels: "What is the difference between rose and pink, or hot pink and fuchsia?" The pinks are always light pink and the rose is a very deep rose-colored shade. "Sophisticated Lady" from 1963 is one example of an outfit that can be found with either light pink, or rose open-toe heels. Hot pink and fuchsia are quite close in color, but the fuchsia shade has a more purple tone to it.
As you can see, Barbie shoes are pretty much available in every color of the spectrum. You will have fun trying to find examples of them all to show off in your collection!
Barbie Doll's Open-Toe Heels Chart:
| | | |
| --- | --- | --- |
| Shoe Color | # of Outfits | Outfits |
| black | 15 | After Five, American Airlines Stewardess, Apple Print Sheath, Barbie Doll Accessories Pak, Career Girl, Cruise Stripes, Roman Holiday, Easter Parade, Sweater Girl, Silken Flame, Let's Dance, Friday Night Date, Solo In The Spotlight, Swingin' Easy, Black Magic Ensemble |
| white | 14 | Barbie in Switzerland, Barbie Doll Accessories Pak, Garden Party, Bride's Dream, Busy Morning, Barbie-Q Outfit, Suburban Shopper, Wedding Day Set, Sheath Sensation, Orange Blossom, Cotton Casual, Registered Nurse, Crisp 'n Cool, Garden Tea Party |
| light pink | 6 | Barbie Doll Accessories Pak, Plantation Belle, Sophisticated Lady, Knitting Pretty (pink version), Magnificience, Pink Moonbeams |
| brown | 6 | Golden Girl, Peachy Fleecy Coat, Evening Splendour, Sorority Meeting, Golden Elegance, Saturday Matinee |
| red | 6 | Red Flare, Barbie in Mexico, Barbie's Hostess Set, Junior Prom, Campus Sweetheart, Benefit Performance |
| clear with gold glitter | 8 | Enchanted Evening, Party Date, Barbie's Hostess Set, Golden Glory, Evening Gala, Debutante Ball, Glimmer Glamour, Sears Exclusive Red Fantastic |
| clear with silver glitter | 6 | Cinderella, Moonlight 'n Roses, Invitation To Tea, Pink Formal, Fabulous Fashion , Extravaganza |
| navy | 3 | Busy Gal, Commuter Set, Gay Parisienne |
| medium blue | 4 | Knitting Pretty, Knit Seperates, Midnight Blue , Firelights |
| pink with blue pompoms | 2 | Slumber Party, Sleepytime Gal |
| light blue with blue pompoms | 2 | Sweet Dreams, Sleeping Pretty |
| green | 1 | Theatre Date |
| green with pearls | 1 | Senior Prom |
| pink with pink pompoms | 1 | Nighty Negligee Set |
| rose | 1 | Pink Sparkle |
| mustard | 1 | Golden Evening |
| pink with silver glitter | 1 | Satin 'n Rose |
| fuchsia | 1 | Fraternity Dance |
| white with melon pompoms | 1 | Dreamland |
| black with yellow pompoms | 1 | Masquerade |
| hot pink | 2 | Jump Into Lace, Underliners |
| yellow | 2 | Leisure Leopard, Night Clouds |
1959 open-toe pumps that had holes in the sole: white, black, brown, light blue with pompoms, pink with pompoms, midnight blue, pink, purple and navy.

Barbie Doll's Closed-Toe Heels Chart:
| | | |
| --- | --- | --- |
| Shoe Color | # of Outfits | Outfits |
| black | 4 | Pretty As A Picture, Pan American Airways Stewardess, Midi-Magic, Pretty Power |
| white | 13 | Dancing Doll, Country Club Dance, Holiday Dance, On The Avenue, Lunch On The Terrace, International Fair, Fabulous Fashion, Here Comes The Bride, Intrigue, Formal Occasion, Beautiful Bride, Wedding Wonder, Midi Marvelous |
| bright pink | 13 | Garden Wedding, Sunflower, Print Aplenty, Swirly Cue, Dancing Stripes, Scene Stealers, Extravaganza, Sears Exclusive Dinner Dazzle Gift Set, J. C. Penney Exclusive Silver 'n Satin Gift Set, Romantic Ruffles, Happy Go Pink, Team-Ups, Red Fantastic |
| medium pink | 1 | Disc Date |
| light pink | 1 | Fashion Luncheon |
| red | 12 | Student Teacher, Aboard Ship, Matinee Fashion, Music Center Matinee, Shimmering Magic, Travel Togethers, Studio Tour, Fashion Shiner, Evening Enchantment, Floating Gardens, Sears Exclusive Velveteens, Glo-Go |
| orange | 5 | Brunch Time, Tropicana, Bouncy Flouncy, Disco Dater, Goldswinger |
| brown | 1 | Gold 'n Glamour |
| bone | 1 | London Tour |
| green | 3 | Junior Designer, Modern Art, Poodle Parade |
| bright blue | 4 | Fashion Editor, Club Meeting, Patio Party, Sears Exclusive Beautiful Blues |
| light blue | 3 | Reception Line, Let's Have A Ball, Knit Hit |
| royal blue | 1 | Sears Exclusive Night Lightning |
| medium blue | 1 | Twinkle Togs |
Please note that sometimes Mattel used whichever shoes were available at the time, so the outfits listed above are not always found with the shoes noted, or sometimes the same outfit is listed twice with different shoes..
---
home | dolls59-66 | dolls67-76 | dolls77-95 | clothing | footwear | accessories
bargain | other-stuff | identification | articles | links | board | contact