Article Archive
Vintage Article:
Sharing Sisters - Barbie & Skipper's Matching Outfits
The early 1960's were an exciting time for Mattel. They had a sensational hit with their new fashion doll, Barbie, and she became the perfect model for a fabulous and ever-expanding wardrobe of lovely fashions.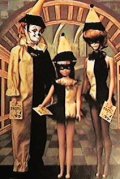 By 1961 Barbie doll had acquired a new boyfriend named Ken, a Dream House, a convertible sports car, and many other wonderful things for long hours of fun and creative play. Most parents didn't hesitate buying their older girls this sexy new fashion model, but many mothers were not willing to buy a Barbie doll for the younger sister in the family, as Barbie seemed to be too grown up for small children! Younger girls were still stuck in the "baby doll" mode - in the eyes of their parents anyway! Mattel realized this in the mid-1960's and in 1964 they set out to overcome this obstacle by introducing "Skipper, Barbie's Little Sister." Now the younger girl could have a doll to dress and play with just like big sister's Barbie doll. Skipper was a fashion doll, and definitely a change from the traditional baby doll, but still, she was a little sister. She is shorter than Barbie, only 9 inches tall, with bigger eyes, a somewhat rounder face and a childish figure. Mattel's thought of her at the time to be around 9 years old or so. Ever fashion concious like her big sister Barbie, Skipper doll had lots of clothes, furniture and even a car of her own (even though she was way too young to legally drive it!).
When Skipper doll first hit the store shelves in 1964, she had ten outfits that were all perfectly coordinated to ten of Barbie's most popular and best-selling ensembles. They consisted of:
#1900 Under-Pretties (matched Barbie doll's Pak item Ruffles 'N Lace)
#1901 Red Sensation (matched #986 Sheath Sensation)
#1902 Silk 'n Fancy (matched #977 Silken Flame)
#1903 Masquerade (matched both Barbie doll's #944 and Ken doll's #794 Masquerade) [shown above left]
#1904 Flower Girl (matched #987 Orange Blossom)
#1905 Ballet Class (matched #989 Ballerina)
#1906 Dress Coat (matched #939 Red Flare)
#1907 School Days (matched the pink version of #957 Knitting Pretty)
#1908 Skating Fun (matched #942 Icebreaker)
#1909 Dreamtime (coordinated with #965 Nighty Negligee Set)
Then, in 1965, Mattel designed a whole new wardrobe for Barbie and her younger sister with such cute coordinating outfits as:
#1910 Sunny Pastels (matched Barbie doll's #1619 Fun 'n Games) [shown below right, righthand side]
#1911 Day At The Fair (matched #1624 Fun At The Fair)
#1913 Me 'N My Doll (matched #1626 Dancing Doll)
#1914 Platter Party (coordinated with #1633 Disc Date)
#1915 Outdoor Casuals (matched #1671 Sporting Casuals) [shown below right, lefthand side]
#1916 Rain or Shine (matched #949 Stormy Weather)
#1918 Ship Ahoy (matched #1631 Aboard Ship)
#1921 School Girl (matched #1622 Student Teacher)
As you can see, most of Skipper's outfits this year were made to copy her big sister's new fashions or at least to coordinate with her outfits or activities, with only a few exceptions to this trend.
In 1966, there was really only one fashionable matching outfit:
#1935 Learning To Ride (matched Barbie doll's #1668 Riding In The Park)
In the 1960's it was quite common for mothers and daughters, as well as sisters, to be dressed alike. Mattel's decision to try to capitalize on this trend created some darling look-alike fashions for Barbie and her cute little sister, Skipper. It can be a lot of fun for vintage Barbie doll collectors to try to acquire these matching outfits to dress the dolls and pose them together in neat coordinating displays!
---
home | dolls59-66 | dolls67-76 | dolls77-95 | clothing | footwear | accessories
bargain | other-stuff | identification | articles | links | board | contact