Article Archive
Vintage Article:
Bubble Cut Barbies.... How To Tell Them Apart!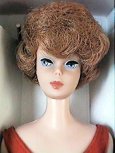 The idea that all Bubble Cut Barbies are basically the same except for their hair and lip colour couldn't be further from the truth! There are at least three specifically different types of Bubble Cuts and many colour variations of lip and hair paint. A collector could spend many years and lots of dollars trying to acquire all possible hair and lips shades available. And even once they thought they were finished they probably would keep occasionally finding some that they didn't already have!
A perfect scenario would be to have several original unopened Mattel® Bubble Cut Barbie shipping cases from the early 1960's to study, but since I don't actually know of anyone who has gotten that lucky, I will share with you the information I have acquired over my more than 12 years of collecting, and eventually selling, vintage Barbie dolls.
For the most part, I am able to separate Bubble Cuts into three categories, based on several different characteristics over the first three years that they were on the market. Basically I separate Bubble Cut Barbies into 1961 dolls, 1962 dolls, and 1963 to the end of production in 1966 dolls [1963 titian doll pictured above to the left]. These categories are somewhat loose as there was a certain amount of overlapping in factory production as well as a few transitional dolls. Mattel® was well known for using up extra limbs, torsos and heads, not to mention re-using swimsuits from previous dolls just to confuse us!.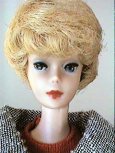 The new "Bubble Cut" hairstyle Barbie was first introduced in the middle of 1961 and this doll had the same stock number as the Ponytail Barbies, #850 [1961 lemon blonde pictured to the right]. The first Bubble Cut dolls came in the 1961 version of the earlier Barbie box which is unique in that both the hair style and hair colour are stamped on the end flap. In 1962, a new box was brought out which illustrates both the new Bubble Cut style dolls as well as the Ponytail style and some of the new outfits for that year. The Bubble Cuts of 1961 are characterized by nice tight, individually styled short hair and dark red lips and nail polish, and are on the Barbie marked "Pats. Pend." body. Barbie was still wearing her black and white vertical striped strapless swimsuit and came with black open-toed heels and either gold hoop or pearl earrings. Her sunglasses were not included this year and most dolls came with black wire stands. The vinyl used for the doll's head has a tendency over the years to "sweat", much like the 1961 Ponytail Barbies, so you often find 1961 Bubble Cuts with a "greasy face". The hair colours available were blonde (three different shades), black and titian. There are also two quite rare versions, a Brownette (medium brown haired) doll and a White Ginger (very light whitish blonde) doll which had bubblegum pink lipstick and nail polish. White Ginger Bubbles were the only 1961 Bubble Cuts to not have red lips and nails! The blondes greatly outnumbered all the other hair colors available that year.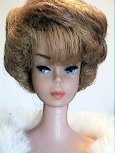 The 1962 Bubble Cut Barbie came in the new style of Barbie box mentioned above, wore a brand new red helenca swimsuit and had pearl earrings, red open-toed high heeled shoes, a black wire stand and her fashion booklet. These dolls are also on the hard, hollow-torso body marked "Barbie" and "Pats. Pend." and although most have a tight bubble style and individually styled hair, some have also been found that have hair that's a bit longer [1962 ash blonde with a bit longer hair pictured to the left]. Instead of only red lipstick and nail and toe polish, this year their lip and nail colours varied from deep red to the palest pink and most colours in between! Red, bubblegum pink and coral seem to be the most common colors available.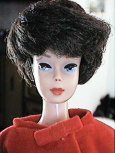 The third type of Bubble Cut [dark brunette with thick hair pictured to the right] is most easily distinguished by her massive amounts of thick hair which is not individually styled like the earlier dolls. These dolls came out in 1963 and were produced until 1966. There is even more variation in lip and nail colours and these dolls' faces seem a bit "chubbier" in the cheeks than their predecessors. That head mold was getting quite a lot of use at the factory! This year the brunette hair style is more of a brown than the earlier coal black colour of 1961 and the hair colour formerly called "titian" on the doll's box becomes designated "redhead" for all Barbie dolls made from 1963 on. The markings on the bum of the 1963 dolls now read "Midge / Barbie" instead of just "Barbie" as this is the year that the Midge doll was first introduced onto the market, using the same body as the Barbie doll. The 1964 and later Bubble Cuts can be distinguished by the word "Patented" added to the bottom line of the butt marks, which is missing from the 1963 "Midge / Barbie" bodies.
The Mattel® factory used different make-up paints throughout the 1960's and although the lipstick used in 1961 is the darkest red, it is not as shiny as that of the later dolls. Some dolls' paint chipped more easily than others and some faded and changed colour over the years. It's not unusual at all to find Barbies with faded or partially faded lipstick and eyebrows. Sometimes the lipstick even oxidizes to a neat colour over the years -- in fact, some of the light pinks have turned a really cool white colour!
In 1965 there were a few side-part Bubble Cuts produced with exceptionally vivid facial paint and lighter baby blue eyes and eye-shadow than previous dolls. They are characterized by their crosshatch woven side-part on the right side of their heads, with the hair below the part line curling up onto the dolls' right temple. [1966 Canadian platinum blonde side-part Bubble pictured to the left] For the most part they are found with coral coloured lips and nails. The 1966 side-part Bubble Cuts were painted with high colour face paint, much like the 1966 American Girl Barbie. They were sold wearing either the red helenca swimsuit or the gold and white striped Fashion Queen swimsuit (which was more often found on Canadian and European side-part Bubbles), as well as their open-toed heels (red if with the red swimsuit, white if with the Fashion Queen swimsuit) and wire stands. These dolls are quite rare and extremely beautiful!
With respect to value, Bubble Cut Barbies were produced for many years and in mass quantities. They are still relatively easy to locate. The 1961 Bubble Cut is the most individually distinctive with her tight bubble hairdo and deep red lips, and since it was made for one year only is harder to find. Most collectors consider this doll more valuable than the later Bubble Cuts (with a few exceptions such as the side-part Bubble Cut). Believe it or not there are dozens and dozens of variations among all the different styles of Bubble Cut Barbies. Some of the best fun you can have as a vintage Barbie collector is the fun of the hunt for all these neat variations!
---
home | dolls59-66 | dolls67-76 | dolls77-95 | clothing | footwear | accessories
bargain | other-stuff | identification | articles | links | board | contact